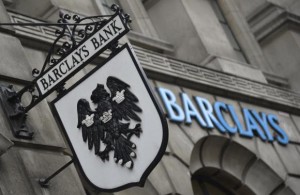 (Reuters) – Barclays said it would axe up to 12,000 jobs this year even as it raised bonuses for investment bankers, prompting fury among politicians and unions who said it had not learned the lessons of the financial crisis.
Britain's third-biggest bank said up to 9 percent of employees could go, including 7,000 in Britain, as it tries to lower costs. The cuts are not concentrated in any one business area.
It said it paid 2.4 billion pounds ($3.9 billion) in incentive awards last year, raising bonuses at the investment bank by 13 percent despite a slump in its profits. The average bonus for the investment bank's 26,200 staff was 60,100 pounds.
Critics of the bonus hike said it showed Britain's biggest banks were still failing to heed the lessons of a financial crisis caused by dangerous risk taking and excessive pay.
"Today Barclays has stuck two fingers up to hard-pressed families across Britain by announcing another multi-billion pound bonus pool," said Frances O'Grady, General Secretary of the Trades Union Congress.
Barclays Chief Executive Anthony Jenkins, who took the helm in 2012 after an interest rate rigging scandal, has vowed to improve culture and standards at the bank while also reducing risk and strengthening the balance sheet.
But its investment bank profits slumped 37 percent last year to 2.5 billion pounds and analysts voiced concern about whether Jenkins can reach his target of a return on equity above 11.5 percent by 2016.
Getting costs down looked more challenging than expected, they said, while increased regulatory pressure and a grim outlook for fixed-income revenue made the target on returns look difficult to achieve.
Barclays shares were down 5 percent at 261 pence by 7.55 a.m. ET, underperforming a 0.7 percent rise by an index of European banks.
"WE NEED THE BEST PEOPLE"
The higher bonuses lifted the compensation-to-income ratio in the investment bank to 43.2 percent last year from 40 percent in 2012. Jenkins, who gave up his own bonus for 2013, said he still aimed for a ratio in the "mid-30s" across the bank.
He defended the bigger bonus pot, saying the bank had to recruit the best staff to compete with global rivals and continued to have "constructive" talks with investors over pay.
"We need to recruit people from Singapore to San Francisco. We need the best people in the bank to drive long-term sustainable returns for our shareholders," Jenkins told reporters on a conference call.
"I understand that there will be some (people) who feel that this decision is the wrong one for Barclays. But it is the decision of the board and myself that this entirely is the right decision for the group and in the long-term interests of shareholders," he said.
But business leaders' group the Institute of Directors said the bank's bonus policy raised the question of whether it was being run for its shareholders, or its staff.
"It cannot be right in any business for the executive bonus pool to be nearly three times bigger than the total dividend pay out to the company's owners," said Roger Barker, the institute's director of corporate governance.
Britain's opposition Labor party said the pay-outs underlined the case for a new tax on banker bonuses, which it would use to fund work for unemployed young people.
INVESTMENT BANKING LOSS
Jenkins said banking was going through a "100-year transformation" as technology and cost pressures reshape the industry, and he was optimistic that Barclays was well set for a "pivotal" 2014.
The bank said 820 senior roles would go, and half of those were cut at the investment bank in the last two weeks. Half of the affected staff in the UK had already been notified.
It cut 7,650 jobs last year, including 1,400 in the investment bank, as part of a restructuring unveiled a year ago by Jenkins to cut 1.7 billion pounds of annual costs. There were 139,600 Barclays employees by the end of the year.
Investment bank income fell 9 percent last year to 10.7 billion due largely to a fall in fixed income.
The investment bank made a loss of 329 million in the fourth quarter, hit by restructuring costs, a 220-million-pound charge for litigation and regulatory penalties and a 333 million cost to pay a UK bank levy.
Revenue in the fourth quarter from fixed income, currencies and commodities fell 16 percent from a year ago, echoing the weak performance across investment banks and not as steep a fall as seen at big rival Deutsche Bank. Barclays' equities income rose 9 percent from a year ago, and advisory and underwriting income fell 5 percent.
Barclays had already released headline results showing its earnings dropped by a third last year to 5.2 billion pounds, falling short of analyst forecasts due to the investment bank's slump.
The bank is successfully cutting its balance sheet, analysts said, and 196 billion pounds in the second half of last year was more than double its target, helped by 55 billion due to foreign exchange movements. Barclays said it would aim to cut at least another 63 billion pounds to get the balance sheet below 1.3 trillion pounds, based on the UK regulator's calculation of leverage exposure.
Barclays said it expected to improve its leverage ratio to at least 3.5 percent by the end of next year, from just under 3 percent at the end of last year and 2.2 percent at the end of June. The UK regulator forced Barclays to raise 6 billion pounds from investors in October to improve the leverage ratio.
The bank said it remained committed to paying out 40-50 percent of its adjusted earnings in dividends.