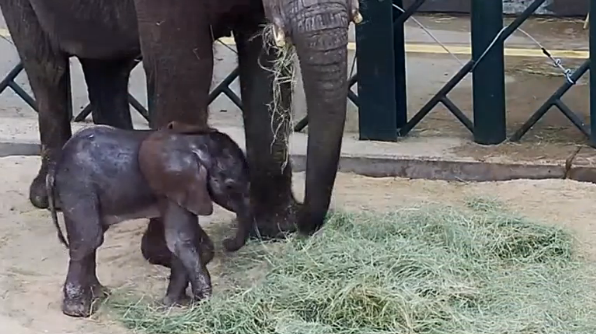 DALLAS, United States (Reuters) — The Dallas Zoo has added a baby elephant to its family and have released new video on Tuesday (May 24) of the little guy collapsing in a heap of hay.
A male African elephant calf was born on May 14 to Mlilo ( ma-LEE-lo), who was one of several elephants rescued from drought plagued Swaziland earlier this year.
The baby elephant, who hasn't been names, measures three feet tall (91 centimeters) and 175 pounds (79 kilograms).
His birth, which zoo staff described as "uneventful," is being hailed as a victory for the Zoo who were concerned that Mlilo's pregnancy could be impacted by the move from Swaziland to Dallas.
At least 17 elephants have been brought to U.S. zoos from Swaziland this year after experts decided that elephants would perish in Africa due to the lack of water and grass.
Over the weekend, the baby elephant stuck close to his mother, following her around their pen. In one video, he can be seen kneeling beneath his mother to nurse.
While the video has whetted the public's interest in the little elephant, he isn't expected to make his public debut for a few months. Zoo officials say he will spend the time bonding with his mother and the rest of the other elephants.