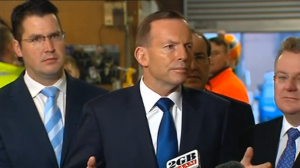 JUNE 16 (Reuters) — Australian Prime Minister, Tony Abbott said on Tuesday (June 16) he was confident Australian agencies acted "within the law" as calls grew for an inquiry into reports that officials paid people smugglers thousands of dollars to turn the their boat carrying asylum seekers back to Indonesia.
"I am absolutely confident that at all times Australian agencies have acted within the law," Abbott said.
"Does that mean that that did happen?," asked an unidentified journalist
"I just want to repeat – and you can ask me any number of times – but I am in the business of supporting our agencies not undermining them, I am in the business of stopping the boats not starting them, I am in the business of building a strong relationship with Indonesia, not aggravating things because that's my job as Prime Minister of Australia. Let me repeat for everyone's satisfaction: I am confident that at all times Australian agencies have acted within the law," replied Abbott.
Australia has vowed to stop asylum-seekers reaching its shores, turning boats back to Indonesia when it can and sending asylum-seekers for long-term detention in camps in impoverished South Pacific nations Papua New Guinea and Nauru.
A boat captain and two crew members arrested on suspicion of human trafficking told Indonesian police Australian authorities had paid each of them A$5,000 ($3,860) to turn back their vessel with 65 migrants on board.
The passengers, including children and a pregnant woman, were from Bangladesh, Sri Lanka and Myanmar.
Australian Foreign Minister Julie Bishop and Immigration Minister Peter Dutton last week denied reports of payment to the smugglers but both declined to repeat the denials during a heated parliamentary debate on Monday.
There are signs the allegations are already straining ties between uneasy neighbours Australia and Indonesia, which are only just beginning to improve after Indonesia's execution of two Australians on drugs charges this year.
On Saturday (June 13), Indonesian foreign ministry spokesman Armanatha Nasir said Australia would have stooped to a "new low" if the reports were true.