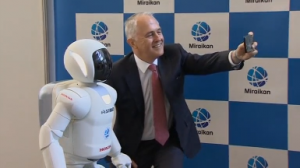 Australian Prime Minister Malcolm Turnbull expressed disappointment during a speech in Tokyo on Friday (December 18) at Japan's resumption of whaling in the Southern Ocean, but said the dispute over the hunt should not be allowed to hurt the two countries' special strategic ties.
Japan's whaling fleet set out for the Antarctic this month to resume a hunt for the mammals, ending a year-long hiatus following an International Court of Justice (ICJ) ruling that Japan should stop. The resumption prompted criticism from Australia as well as Tokyo's key ally, the United States.
Before his speech at the Tokyo science museum, Turnbull met and took a photograph with Honda's humanoid robot, Asimo.
Earlier this month, Turnbull unveiled a A$1.1 billion ($806 million) package to boost innovation in Australia.
Speaking at the science museum in the Japanese capital, Turnbull identified that ideas would be the next boom.
"That is the next boom that comes after the mining boom, is the idea's boom. And it's a boom unlike, a commodities boom, that can last forever," Turnbull said.
Turnbull said that Australia was disappointed Japan had resumed whaling.
"We'll discuss innovation, we'll discuss the economy, we'll discuss, obviously, the important strategic collaboration we have. We have a special strategic partnership with Japan. And there are some issues we disagree on. As you know, Australia is very disappointed that Japan has resumed whaling in the Southern Ocean this year. We recognize that is a point of difference of opinion, but we will, as good friends should, we should be upfront and frank," he said.
Japan aims to take more than 300 whales before the hunt ends next year and nearly 4,000 over the next 12 years as part of a scientific programme to research the whales.
The International Court of Justice (ICJ) ruled last year that Japan's whaling in the Southern Ocean should stop and an International Whaling Commission (IWC) panel said in April that Japan had yet to demonstrate a need for killing whales.
Turnbull is on his first visit to Japan since replacing Tony Abbott, who had developed tight ties with Abe, in September.
He faces a balancing act between Australia's largest trading partner and rising power, China, and its oldest regional ally and second-largest trading partner, Japan, with which it has been bolstering strategic relations. (Reuters)