SYDNEY, Australia (AFP) — Australia urged China on Friday to refrain from the "militarization of islands" to avoid walking into a conflict, a day after the United States slammed Beijing for deploying missiles in the disputed South China Sea.
China said Thursday it had weapons on one of the islands in the strategically important region, which US Secretary of State John Kerry said was evidence of an "increase of militarisation" and a "serious concern".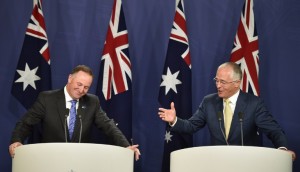 Prime Minister Malcolm Turnbull said it was critical for the region's prosperity that China and the US used international law to resolve their disputes.
"We urge all claimants in the South China Sea to refrain from any building of islands, any militarisation of islands, any land reclamation," Turnbull said in a joint press conference with his New Zealand counterpart John Key in Sydney.
Turnbull said both Australia and New Zealand wanted to see a lowering of tensions as he urged Chinese President Xi Jinping to resolve all disputes in the seas — through which one-third of the world's oil passes — through legal means.
"President Xi of China has said that one of China's biggest challenges is falling into what he calls the Thucydides Trap, which essentially is where a rising power creates anxiety among other powers such that conflict occurs," he said.
"If China wants to avoid falling into the Thucydides Trap, as President Xi describes it, then resolving disputes in the South China Sea should be done through international law, through all of those mechanisms that are available to us."
New Zealand Prime Minister John Key said the two nations' economic relationships with China, an important trading partner, would allow them to make their case against escalating tensions publicly and privately.
Beijing claims nearly all of the South China Sea. It has insisted that its island building aims to provide services such as search and rescue facilities, but also maintains it has the right to deploy necessary "self-defence" measures there.
Other nations surrounding the sea — Brunei, Malaysia, the Philippines, Taiwan and Vietnam — lay claim to parts of it.
The US and Australia have carried out several so-called "Freedom of Navigation" overflights and sail-bys in the region, which China has described as "provocations".
© 1994-2016 Agence France-Presse