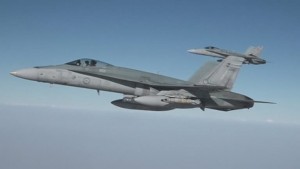 Australia on Thursday (January 14) said that it had denied a request from the United States for a greater military commitment against Islamic State militants in Syria and Iraq made in the wake of the November attacks in Paris that killed 130 people.
Australia, a staunch ally of the United States and its battle against Islamist militants in Iraq and Syria, has been one of the largest contributors to the U.S.-led bombing campaign against the group.
But Australian Defence Minister Marise Payne said that there were no plans to increase that commitment beyond current levels beyond possible additional humanitarian aid, despite the request from Washington.
Australia in late-2014 committed Super Hornet fighter jets, as well as support aircraft and a 600-strong group of airforce personnel and special forces soldiers to the force battling IS in Iraq.
It expanded that mission into Syria last year.
Since it joined the campaign Australia has been on heightened alert for attacks by home-grown radicals. Authorities say they have thwarted a number of potential attacks, although there have been several "lone wolf" assaults.
Police shot dead a Melbourne teenager in September 2014 after he stabbed two counter-terrorism officers. In December of that year two hostages were killed when police stormed a central Sydney cafe to end a 17-hour siege by a lone gunman, who was also killed.
Australian Prime Minister Malcolm Turnbull, who deposed Tony Abbott as leader in a party coup last year, has been less vocal a critic of Islamic State than his predecessor, who continues to vocally advocate putting boots on the ground in the region.
U.S. President Barack Obama defended his policies to combat the group, which Republicans have called flawed and insufficient, during his last annual State of the Union speech to Congress as president on Tuesday.
Turnbull is set to visit Washington next week for a meeting with Obama, where national security in the Middle East and Asia-Pacific regions are set to be agenda topping items. (Reuters)