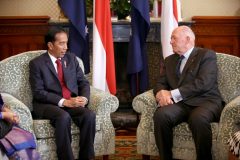 SYDNEY, Australia (AFP) — Australia and Indonesia announced the full restoration of military ties Sunday as the countries' leaders held talks following a brief spat over teaching material deemed offensive to Jakarta.
Indonesia had reported the suspension of all military cooperation with Australia from December before clarifying that only language training had been put on hold.
Prime Minister Malcolm Turnbull said after two hours of talks that he and Indonesian President Joko Widodo had "agreed to the full restoration of defence and training activities".
On his first visit as head of state to Australia, Widodo told reporters the two neighbours had also agreed to seal a major economic partnership deal.
"We are both committed to concluding a high quality bilateral free trade agreement, the Indonesia-Australia comprehensive economic partnership, by the end of this year," Turnbull told reporters.
But there were few details on the deal.
The military row between the neighbours erupted after a visiting Indonesian officer raised concerns about the material at a language training facility in Perth.
Indonesia's military chief General Gatot Nurmantyo said it involved "unethical stuff" which "discredits Indonesia and its military, even the nation's ideology". He said it concerned East Timor — which seceded from Indonesia after a bloody occupation — and the nation's founding philosophy "Pancasila", all deeply sensitive topics in Jakarata.
But leaders of both Australia and Indonesia publicly insisted ties were strong before Security Minister Wiranto clarified last month that the military had temporarily suspended cooperation only in language training.
Indonesian and Australian forces cooperate on a range of issues from border protection to counter-terrorism . On the economic front, Widodo called for the elimination of trade barriers on exports of Indonesian palm oil and paper to Australia, a key ally whose relationship with Jakarta has been repeatedly strained in recent years.
Ties between the neighbours have often been rocky with Jakarta's execution of Australian drug smugglers and Canberra's policy of turning migrant boats back to Indonesia, but they improved after Turnbull took office in 2015.
bp/ds
© Agence France-Presse