By David Beasley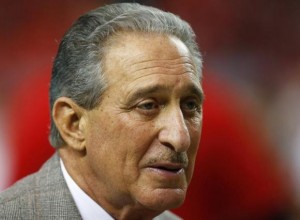 ATLANTA Wed Apr 16, 2014 6:15pm EDT
(Reuters) – Atlanta has landed a Major League Soccer expansion team that will play beginning in 2017 in the city's new open-air stadium downtown, officials announced on Wednesday.
Arthur Blank, owner of the National Football League's Atlanta Falcons team and a co-founder of Home Depot Inc. purchased the new franchise, which will be the league's 22nd team, he told reporters.
"This is an exciting day for Atlanta," Blank said. "We have been working on soccer for probably over 10 years now. It's been a dream of ours."
The Georgia Dome, Atlanta's current downtown football stadium, is scheduled to be torn down and replaced in 2017 with a $1 billion open-air facility with a retractable roof.
"Downsizing technology" to create a smaller stadium seating plan for soccer fans will be used at the new football stadium, the league said.
No decision on the name of the team has been made, Blank said.
MLS currently has 19 teams in the United States and Canada with two additional teams planned to launch next year in New York and Orlando.
Miami is also vying for a franchise led by David Beckham, the former England, Manchester United and Los Angeles Galaxy star. Last month, Beckham's group announced a plan for a downtown stadium which has yet to be approved.
The NFL's Minnesota Vikings have also expressed interest in bringing an MLS franchise to their new football stadium due to open in 2016 and designed to be suitable for soccer.
(Editing by David Adams, G Crosse, Kevin Gray)