By Wayne Cole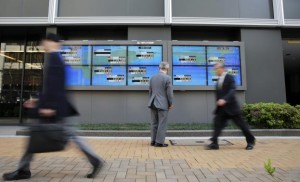 SYDNEY Wed Apr 16, 2014 10:28pm EDT
(Reuters) – Asian share markets eked out gains on Thursday as dovish comments from the head of the U.S. Federal Reserve combined with an upbeat economic assessment from the central bank to lift Wall Street for a third straight session.
However, disappointing results from Google and IBM knocked their shares lower after the bell and could crimp technology stocks in the region.
Indeed, the tech and telecoms sectors in Japan's Nikkei were in the red on Thursday, nudging the overall index down 0.2 percent following a 3 percent jump the previous session.
Other markets fared better with shares in Australia up 0.5 percent and MSCI's broadest index of Asia-Pacific shares outside Japan adding 0.33 percent.
The moves mirrored Wall Street, where both the Dow and S&P 500 gained about 1 percent, while the Nasdaq bounced by 1.29 percent.
Yet not all was well. Google Inc lost around 4 percent after hours as first-quarter revenue fell short of Wall Street targets and margins narrowed as the price of its ads continued to decline.
IBM Corp suffered after reporting its lowest quarterly revenue in five years as the company struggles with falling demand for its storage and server products. Total revenue fell 4 percent to $22.5 billion in the first quarter, below average estimate of $22.91 billion.
Shares of the world's largest technology services company fell about 4 percent to $188.20 in after-hours trade.
LOW INFLATION MEANS LOW RATES
Fed Chair Janet Yellen told the Economic Club of New York that it might take two years to return to full employment and there was more risk of inflation staying too low, than going too high.
Yellen said achieving the Fed's economic goals "will likely require low real interest rates for some time," a policy view she said was shared broadly across many advanced economies.
"We read this as a not-so-subtle signal that, although the committee has gradually begun to remove its outright commitment to low rates and balance sheet expansion, the Fed is in no hurry to accelerate the trend or initiate a rate hike cycle," said Michael Gapen, and economist at Barclays.
The prospect of low rates for longer helped pull down long-term borrowing costs. Yields on Treasury 30-year bonds dipped to 3.44 percent and near lows not seen since July last year.
But that in turn weighed on the dollar which eased back to 102.01 yen from an early high at 102.26. The euro was a whisker firmer at $1.3835 but well within recent ranges.
Bonds in Europe continued their spectacular rally amid speculation that persistently low inflation would force the European Central Bank to launch further stimulus.
Yields on Spanish 10-year debt sank to their lowest in over eight years at 3.06 percent, while Italian 10-year yields hit an all-time trough at 3.11 percent.
Economic news out of the United States was mixed with industrial production beating forecasts but housing starts disappointing.
Still, investors were cheered by the Fed's Beige Book of anecdotal information on business activity which showed activity picked up in recent weeks as a weather-related drag lifted.
Spot gold steadied at $1,300.85 an ounce having found support in the $1,290/1,293 area after a technical selloff early in the week.
Brent crude inched toward $110 a barrel on Wednesday on mounting tensions in Ukraine. Ukrainian government forces and separatist pro-Russian militia staged rival shows of force in eastern Ukraine on the eve of crucial talks on the former Soviet state's future.
Brent crude for June added 2 cents to $109.62 a barrel, near its highest level since March 3. U.S. crude was up 33 cents at $104.09 a barrel, shrugging off a huge build in stockpiles.
(Editing by Shri Navaratnam)