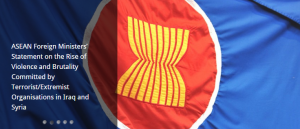 MANILA, Philippines (ENS) — In its first ever statement against terrorist and extremist organizations, the Association of Southeast Asian Nations (ASEAN) sent a strongly worded expression of concern  against radical groups in Iraq and Syria saying these groups pose a serious threat to the rest of the world if left unchecked.
"ASEAN Member States expressed concern over the rise of violence and brutality committed by terrorist/extremist organisations and radical groups in Iraq and Syria, noting that these groups not only pose a threat to the people of Iraq and Syria, but also to all countries in Middle East, and if left unchecked, to the rest of the world," the first statement by the ASEAN foreign ministers on the rise of violence and brutality by extremist organizations read.  It was posted on the ASEAN website on Sept. 27, Saturday.
The 10-member nation regional grouping also reiterated its commitments to the implementation of the ASEAN Convention on Counter Terrorism and the ASEAN Comprehensive Plan of Action on Counter Terrorism.    It said both of these aim to "prevent and suppress terrorism by addressing its root causes and disrupting terror networks and financing channels."
"ASEAN denounces all acts of destruction, violence, and terror in all its forms and manifestations," the ASEAN statement read.
"ASEAN deems it imperative for the international community to work together in unity in the fight against terrorism, extremism and radical groups, wherever they occur," it said.
The ASEAN foreign ministers also expressed support for the UN Security Council Resolutions 2170 (2014) and 2178 (2014) which called on the international community to suppress the flow of foreign terrorist fighters and financing.
The said UN resolutions sought "to prevent terrorist groups and their supporters from posing a threat to international peace and security."   The resolutions also meant to prevent and suppress the recruiting, organizing, transporting or equipping of individuals who travel to a State other than their States of residence or nationality.  This is for the purpose of the "perpetration, planning, or preparation of, or participation in terrorist acts or the providing or receiving of terrorist training, and the financing of their travel and of their activities."
"ASEAN renews its commitment to work with the international community to fight against extremism, radicalism and terrorism and address its root causes, including through the promotion of the Global Movement for Moderates (GMM), to prevent further violence and brutality, in accordance with international law and the UN Charter," the ASEAN statement said.
US Pacific Command fears ISIS gaining at least 1,000 recruits through social media
The ASEAN statement was issued after the United States military announced its fears that the ISIS have been getting as many as 1,000 recruits from the Asia Pacific region,  and that these recruits have already travelled to join the Islamic State in Iraq and Syria.  It said most of the recruitment was done "via social media."
Admiral Samuel Locklear, head of the U.S. Pacific Command gave this estimation, adding that the number could even grow in the next few days or weeks.
"I can tell you that I believe most of them have been recruited via social media," he said. "Social media appears to be the place where ISIL has been – that type organization and al-Qaeda have been – particularly effective at reaching out and finding these people who would have a tendency to want to go toward a terrorist organization."
Islamist radicals have been ractive in recent years in several countries including the Philippines, Malaysia, China and Australia, a report from CNS news said.
An article published by the Council on Foreign Relations also noted that many more parts of the world, including Southeast Asia, would be anxious about ISIS.
Southeast Asia, among ISIS' targets in its recruitment
"The governments of that region have not publicized their concerns very loudly, but they are acutely aware that ISIS is a menace. Their top concern is that its extremist ideology will prove attractive to the region's many Muslims, lure some of them to the Middle East to fight as part of the group, and ultimately be imported back to the region when these militants return home," wrote Joseph Chinyong Liow, a Senior Fellow and Lee Kuan Yew Chair in Southeast Asian Studies at the Brookings Institution and Professor.  He is also the Associate Dean at the S.Rajaratnam School of International Studies, Nanyang Technological University.
In his article, "ISIS goes to Asia," Liow noted a "clear precedent for this scenario."
"During the 1980s, many young Muslims from Southeast Asia went to Pakistan to support the Afghan mujahideen's so-called jihad against Soviet occupation. Many of these recruits subsequently stayed in the region, mingling with like-minded Muslims from all around and gaining exposure to al Qaeda's militant ideology," he said.
"Many eventually returned to Southeast Asia to form extremist groups of their own, including the notorious al Qaeda­–linked organization Jemaah Islamiyah that was responsible for several high-profile terrorist attacks in the region over the last 15 years. With evidence now surfacing of Southeast Asians among the ranks of ISIS casualties, it's only natural that governments in the region are feeling a sense of déjà vu," Liow explained.
He said that Singapore has already revealed that several of its nationals have made their way to the Middle East to battle with ISIS.  He noted that even the Philippine government has suggested that local ISIS sympathizers are attempting to recruit from among the Bangsamoro populations in the country's southern islands.
"But the greatest concern comes from Indonesia and Malaysia. Indonesia, the world's most populous Muslim country, has already confirmed that more than 50 of its citizens are currently fighting in Syria and Iraq; Malaysia has suggested that between 30 and 40 Malaysians are doing the same. In both cases, the actual numbers could be much higher if we consider those who may have traveled to the conflict zones from other destinations," Liow said.
Liow also noted that Indonesian authorities have already said that several of their nationals have been killed fighting for ISIS in Syria, as well as several nationals of Malaysia.
"On May 26, a Malaysian suicide bomber killed himself in an ISIS attack in Iraq. Another Malaysian fighter who died fighting for ISIS in Syria several months later has been celebrated as a martyr by leaders of the Pan-Malaysian Islamic Party, the same party that had earlier dismissed him after he departed for Syria. Intriguingly, three Malaysian women were also alleged to have left for Syria to wage a "sexual jihad" (jihad al-nikah), offering their bodies to ISIS fighters to 'boost their morale'," his article read.
In the Philippines, Filipino militants have even threatened to kill a German hostage in solidarity with the organization ISIS, raising new concerns that the hardline approach of ISIS, which is attracting recruits in Asia, constitutes a growing security threat in the region.  (Eagle News Service)