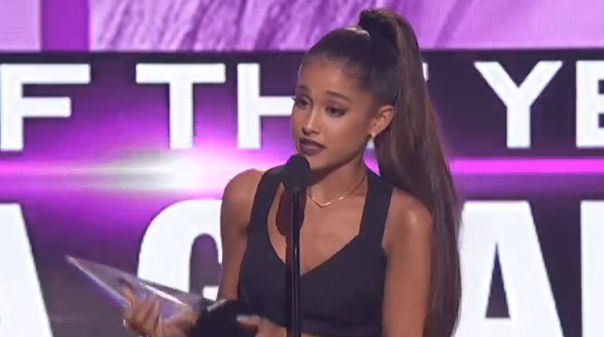 LOS ANGELES, California (Reuters) — Canadian rapper Drake won his first ever American Music Awards on Sunday (November 20) and Ariana Grande was named artist of the year.
Pop singer Selena Gomez, 24, who surprised fans by making her first major public appearance since cutting short her world tour in August to deal with panic attacks and depression, won the best pop/rock female artist award.
In an emotional speech, Gomez thanked her fans for their loyalty and explained why she felt the need to take a break.
"I had to stop. I had everything, but I was absolutely broken," said Gomez, who is also known for her on and off again romance with Justin Bieber for the past five years.
Drake, 30, who got a leading 13 nominations, won best rap/hip-hop artist, song and album for his best-selling "Views", which earlier this year became the first album to earn one billion streams on Apple Music.
Pop singer Grande, 23, was chosen artist of the year, beating Justin Bieber, Rihanna and Gomez.
Former One Direction member Zayn Malik, who quit British boy band One Direction last year to launch a solo career, bested Canadian Shawn Mendes to take the best new artist trophy.
British singer Sting, who last week released his first pop/rock album in a decade, "57th and 9th," sang a medley of his hits and was presented with an honorary award recognizing his contribution to the music industry.
Sting said he owed a debt to American rock and roll, adding "While I may be an Englishman in New York, my musical soul is all American."
Bieber performed "Never Give Up" via satellite from a concert in Italy and won awards for best pop/rock male artist, album, song and video.
Lady Gaga, Kendrick Lamar, Nicki Minaj, The Weeknd, Niall Horan, James Bay and John Legend were among the dozens of other performers on the Los Angeles stage.
In one of a handful of references to the Nov.8 U.S. presidential elections at the three-hour awards, Broadway musical performer Idina Menzel applauded comments made by a cast member of the hit Broadway show "Hamilton" to Vice President-elect Mike Pence, who was in the audience, appealing to him to "uphold our American values."
In response to the comments, President-elect Donald Trump tweeted: "The Theater must always be a safe and special place. The cast of Hamilton was very rude last night to a very good man, Mike Pence. Apologize!"
"Us unsafe, scary theater people wouldn't be invited to the inauguration. I love you, Hamilton," said Menzel.
The American Music Awards, which are chosen by fans voting online, were created in 1973 as an alternative to the Grammys.