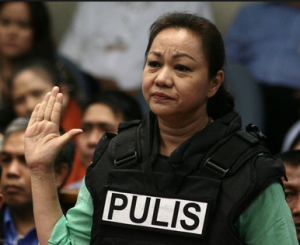 MANILA, Feb 19 (PNA) –Although open to the possibility of house arrest for alleged pork barrel mastermind Janet Napoles, President Benigno S. Aquino III on Wednesday wanted her be examined first to confirm her condition.
The President, during an ambush interview after the inauguration of the Estero de San Miguel Micro Medium-Rise building in Sampaloc, Manila, said that healthcare for all detainees should not be compromised.
He raised the issue following Napoles' complaints of her poor health as she was reportedly suffering from abdominal pains as well as profuse menstrual bleeding.
Complications like ovarian tumor was also mentioned as a possibility, according to reports.
Napoles had also asked the local court in Makati City for permission to have medical examination at St. Luke's Hospital in Taguig City.
"It is our obligation to make sure that the health of persons detained are looked after," President Aquino said in Filipino.
"We have to have her checked if she does in fact, have medical reasons," he added.
On the other hand, groups have continued to demand Napoles to be placed in a regular prison instead where she is currently detained in Fort Sto. Domingo, Sta. Rosa Laguna.
Critics argued that the Philippine National Police (PNP) has been spending too much for Napoles detention and she deserved to be treated just like regular detainees.
The President, however, maintained that it was not him to decide what kind of arrest Napoles would be placed under, but the court. (source: Philippine News Agency)