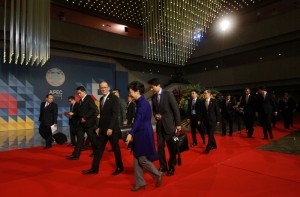 (MANILA) The leaders of the 21 Asia-Pacific Economic Cooperation (APEC) member economies has adopted the Philippine-led initiative that aims to put micro, small and medium enterprises (MSMEs) at the forefront of regional and global trade by 2020.
In their 2015 APEC Leaders' Declaration issued following their retreat, the APEC leaders ordered their respective Ministers to implement actions laid out in the Boracay Action Agenda and report their progress to them by 2020.
"We live in a connected world in which many goods and services are no longer produced in one location but are the result of firms cooperating within and across our borders," they said in their declaration.
By adopting the agenda created in Cebu by Trade Ministers, the APEC leaders expressed their belief that this action will benefit consumers, create jobs, and foster development.
"We need all our businesses, regardless of size, to connect to where opportunities exist," the leaders said.
Aside from establishing connection within and across neighboring countries, the 21 economies also plan to develop policies that take "full advantage of global value chains (GVC) and encourage greater participation and added value" for MSMEs.
They will also promote competition, entrepreneurship, and innovation through "balanced intellectual property (IP) systems and capacity building".
The Boracay Action Agenda to Globalize MSMEs is an action-oriented initiative that supports the APEC's ongoing work to address the barriers faced by MSMEs in international trade.
Through the agenda, member economies will facilitate micro and small enterprises' access to regional and global markets in the identified priority areas for cooperation and action on trade facilitation, e-commerce, financing and institutional support, including for women-led MSMEs.
The APEC leaders also decided to adopt the Services Cooperation Framework to ensure that all the country's citizens benefit from and contribute to high quality growth.
"We instruct our officials to develop a strategic and long-term Services Competitiveness Roadmap in 2016 with the adoption of a concerted set of actions and mutually agreed targets to be achieved by 2025. We appreciate services-related initiatives, such as manufacturing-related services," they said in the declaration. (PCOO-APEC Communications Team)