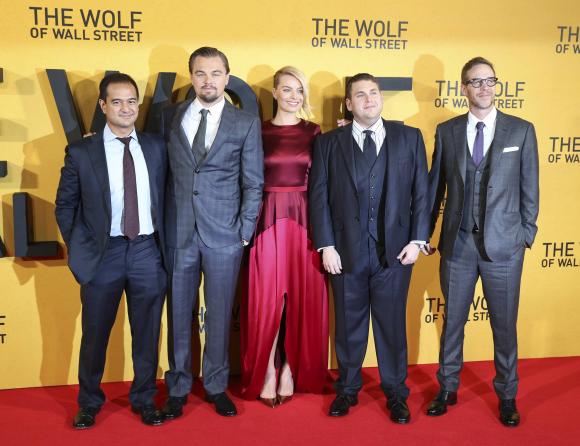 (Reuters) – Crime caper "American Hustle" and financial greed tale "The Wolf of Wall Street" each landed eight nominations for the MTV Movie Awards on Thursday, edging out dystopian saga "The Hunger Games: Catching Fire" and comedy "We're the Millers."
"Hustle" and "Wolf," which each went home from Sunday's Oscars empty handed, will have a shot at redemption at the unbuttoned MTV event that hands out golden, popcorn-shaped trophies in categories like best kiss and best fight scene.
The fan-voted awards will be hosted by comedian Conan O'Brien at the Nokia Theatre in downtown Los Angeles on April 13 and televised on MTV, a unit of Viacom Inc.
"American Hustle" stars Amy Adams, Jennifer Lawrence and Bradley Cooper, who each picked up nominations in top acting categories while Adams and Christian Bale picked up a nod for best on-screen duo in the film.
Oscar best picture winner "12 Years a Slave" earned four nominations, while outer space thriller "Gravity" scored a single nod for Sandra Bullock as best actress, after winning seven Academy Awards, the most this year.
Nominees for best movie, the only category in which voting will continue during the broadcast, include "12 Years a Slave," "American Hustle," fantasy film "The Hobbit: The Desolation of Smaug," "The Hunger Games: Catching Fire" and "The Wolf of Wall Street."
Matthew McConaughey and Jared Leto, who both won Oscars for their performances in AIDS drama "Dallas Buyers Club," earned nominations together for best on-screen duo and separately for best on-screen transformation.
The annual awards, which honor hit movies that might have been overlooked by the Oscars and Golden Globes, serve as a lead-in to the summer movie season and will include preview clips from would-be summertime Hollywood blockbusters.
This year's odd-ball categories include best shirtless performance, best "#WTF moment," and best cameo performance.
The 15-actor fight scene in comedy "Anchorman 2" earned a nomination for best fight scene while Lawrence and Adams' unscripted lip-lock in "American Hustle" picked up a nod in the best kiss category.
Former boy band the Backstreet Boys also scored a nomination for best musical moment in apocalyptic satire "This Is the End," and octogenarian comic Joan Rivers notched a nomination for best cameo for her part in superhero blockbuster "Iron Man 3."