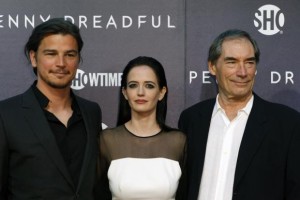 (Reuters) – Monsters and murders of the Victorian age come alive in Showtime's new "Penny Dreadful," as actor Josh Hartnett leads a band of gothic mavericks to uncover the terrors that attack the city of London.
"Penny Dreadful," premiering on the CBS Corp cable network on Sunday, follows wealthy explorer Sir Malcolm Murray (Timothy Dalton) on a quest to find his kidnapped daughter Mina, as a terrifying creature wreaks havoc by devouring humans in the nighttime shadows of London.
Murray enlists the help of eclectic outsiders, some mined from British literature like Oscar Wilde's Dorian Gray and Mary Shelley's Victor Frankenstein, while others, such as Eva Green's mysterious Vanessa Ives or Hartnett's Ethan Chandler were developed by the show's creator John Logan.
Hartnett, who makes his return to television after a breakout role 17 years ago in the short-lived series "Cracker," said he drew inspiration for the gun-slinging charmer Ethan from gunfighters of the old American West, such as Wild Bill Hickok and Buffalo Bill Cody.
"He's a Russian doll of a character, and I wanted that to come across immediately," he said. "In that first scene, he's wearing a costume over a costume, he's wearing a mustache over a mustache. It's important to me that you know from the get-go that he's not what he seems."
The term 'penny dreadful' refers to cheap Victorian-era books containing tawdry, graphic stories of monsters and murder, and the show is loosely inspired by the tales of horror that thrilled working-class readers.
"Penny Dreadful" is the latest U.S. television show drawing from Victorian England after shows such as NBC's "Dracula" and Fox's "Sleepy Hollow" also resurrected gothic literary characters for the modern-day audience.
Hartnett said he saw similarities in the social changes of 19th century England and today, accounting for why audiences may relate to the bygone age.
"It was a time that was on the cusp of something new, which I think is kind of an equivalent to what's happening now, there's reverberation of change in everything," he said.
SWAPPING BLOCKBUSTERS FOR INDEPENDENT FILM
The role of Ethan is a welcome return to the spotlight for the 35-year-old Hartnett, who became one of Hollywood's in-demand young stars in the early 2000s, with leading roles in 2001's "Pearl Harbor" and "Black Hawk Down."
But after 2006's "The Black Dahlia," Hartnett – who opted not to take superhero roles for Spider-Man, Batman and Superman – stepped away from Hollywood's bigger budget fare, instead focusing on independent film projects such as 2008's "August."
"There were a lot of the top directors in Hollywood that I had projects with that we were developing, and for one reason or another, things fell apart," he said.
"Instead of doing lesser versions of those projects with other people or just doing something to keep my name out there, I pursued directors that were making really interesting projects that were off the beaten path."
Hartnett is the latest actor to embrace television as part of a recent wave of shows that have drawn film-level talent, as networks are now financing mid-level budget productions of $20 million to $50 million that Hollywood struggles to make.
The actor hopes to step behind the camera himself to direct, saying filmmakers with smaller movies have more options now for releasing through different on-demand platforms.
"I worked at a video store when I was younger, and I've always had a fascination with the two-hour format, that's why I've done a lot of film over the last few years," he said.
"I would love to take some of the ideas that I come up with and put them into a film, and it's something that I'll hopefully will do in the future when the time is right."
(Editing by Eric Walsh)