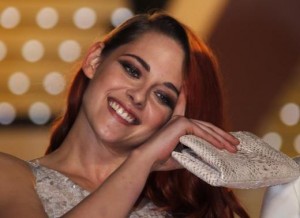 (Reuters) – Stewart, 24, who became a fan favorite among young adults alongside her then-boyfriend Robert Pattinson in the "Twilight" films where she played a teen girl smitten with a vampire, has turned to darker fare such as this year's Sundance film "Camp X-Ray," where she plays a prison guard at Guantanamo Bay.
In her latest movie "Clouds of Sils Maria," which premiered at the Cannes Film Festival, Stewart plays the personal assistant of an aging actress dealing with the challenges of the film industry's reaction to her getting older. The film also stars Juliette Binoche and Chloe Grace Moretz.
In an interview with Reuters, the actress opened up about her views on the fame game and dealing with perceptions.
Q: What drew you to "Clouds of Sils Maria"?
A: It happened to be the perfect project, timing-wise. Just my experience with my career, how it's gone – you know, "Twilight" blew up – I'm extremely famous. It's interesting for me to play an actress' assistant who then comments on that world and how it works and how superficial it can be.
Q: Working with a European writer-director on this film, was that a different mindset from working in America? Is there a freedom that comes from working in Europe that you might not get in Hollywood?
A: It's not absent in the States, but it's not prevalent to feel free within the film industry, to feel like you can say what you want to say, not with any concern about how people are going to react to it, whether you're going to piss them off.
So here, it seems like people are less afraid because again they're doing it for themselves. It's for the art of it. It's not to market things. It's just, it's a good feeling.
You know, to make a movie is so ridiculous. We're going to go film each other pretending to be other people so other people can watch us pretending to be other people? It's insane. But if it's worth it and it's saying something … it can be transcendentally important.
Q: Is it difficult to remain yourself knowing the industry is pushing and pulling you this way and that, with the media often giving you a hard time regardless of what you do?
A: I don't do what I do to … control perception or make people think a certain way about me. That would be traipsing all over the experience of making any film.
It's just so ass-backwards to me. I don't know how people do that. I don't know how people tactfully traverse their careers. I don't know how they choose, 'Well, this is a different side of me people have not seen and so I will present that to them now.' It's like, 'Why are you doing this for other people? You should be doing it for yourself.' And so I've functioned from that position since I started, and therefore I really don't care about all that.
Q: Do you feel the pressure of needing to stay on top of the game?
A: I want to make movies one day, like absolutely I want to direct movies. And I directed this music video (for indie band Sage + The Saints) and I was like, it's just this dinky little thing and it's fun, and I'm so happy to do it, but it's going to be a big deal, no matter what. Even if I shoot it on a Polaroid camera, people will be like, 'What did she do? Let's take a look.' It's like, 'How about you give me a second to figure it out?' So, yes, that's not something to complain about. It's incredible that I can do that. It's just kind of weird. It's different.
(Reporting by Mike Davidson for Reuters TV; Writing by Piya Sinha-Roy in Los Angeles; Editing by Mary Milliken and Jan Paschal)