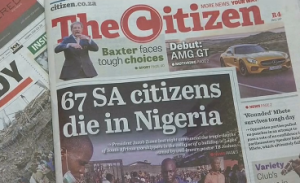 (Reuters) — President Jacob Zuma on Tuesday (September 16) said at least 67 South Africans died in Friday's accident in Lagos and described it as one of the worst tragedies in South Africa's recent history.
"It is a very sad day today, to us a country for losing so many of our people. 67 so far that has been identified who were part of the church service at Synagogue church in Nigeria." he said.
As many as 300 South Africans were visiting a Pentecostal church in Nigeria on Friday (September 12) when a building under construction in the compound collapsed, killing more than 60 people, and an unknown number are still unaccounted for.
CCTV footage showed the moment the large building was levelled trapping scores of people underneath as pedestrians in a nearby street rushed away from the scene.
The collapse occurred when three extra stories were being added to the existing two floors of a guest house of the church compound.
A local TV station highlighted what it said was a "strange aircraft" flying over the building several times before the Synagogue Chirch Of All Nations (SCOAN) building collapsed, but Nigerian authorites have ruled out fould play.
Led by the charismatic "Prophet" T.B. Joshua, the Pentacostal church attracts a global following of Christians who believe Joshua is able to perform miracles including curing the ill and raising the dead from the grave.
Zuma's tally conflicted with that of the Nigerian emergency services who late on Tuesday put the overall death toll at 62. There was no immediate explanation for the discrepancy.
Members of the church had at first prevented emergency officials from participating in the rescue, making it difficult to establish a toll for the injured and dead, originally estimated at 41. State rescuers were allowed in on Saturday.
Pretoria described the search and rescue operation as "very fluid" but defended the credibility of its count of 67 dead, saying it was based on records and information on the ground from five tour groups that had arranged for South African worshippers to go to Lagos.
Spokesman Mac Maharaj later said the government believed around 300 South Africans from four to five groups were visiting the church on Friday but it was not clear how many were on the spot when the tragedy struck.
T.B. Joshua's church draws thousands of followers from all over Africa and many other parts of the world, attracted by claims that he and his inner circle have special healing powers, including cures for normally incurable ailments including HIV/AIDS and chronic kidney disease.
The regular influx of visitors from abroad for church services that can last up to a week creates demand for accommodation that the church's own guest house has been unable to meet, and often spills over into local hotels.