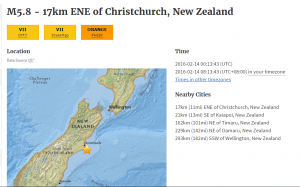 A  5.8 magnitude quake shook near New Zealand's city of Christchurch on Sunday (February 14), according to the US Geological Survey.
The USGS website said the quake was located 17 kilometers east northeast of Christchurch.
New Zealand's earthquake monitoring service, however, put the quake's magnitude at 5.7
It hit just eight days short of the anniversary of the February 22, 2011 earthquake in the same region, which resulted in nearly 200 deaths and caused billions of dollars of damage.
The epicentre was 15 kilometres east of the city at a depth of 15 km, Geonet said.
Vehicles could be seen shaking in driveways while a police spokesman told Reuters there were no reports of major damage or injuries.
Several buildings were evacuated in Christchurch as a precautionary measure.
Civil Defence said there was no tsunami threat to New Zealand.  (with a report from Reuters)