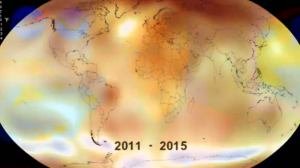 (Reuters) — Last year's global average temperature was the hottest ever on record, according to a report released by the United Nations' World Meteorological Organization (WMO) on Monday (January 26).
Last year was the hottest since records began in the 19th century in a trend that almost all scientists blame on greenhouse gases from burning of fossil fuels, stoking heat waves, droughts, downpours and rising sea levels
"2015 was the hottest year on record by quite a considerable margin. It was striking. So the average global temperatures, and we are talking about the land surface and the sea surface, that was 0.76 Celsius degree above the long term average which is between 1961 and 1990," said a WMO spokesperson Clare Nullis.
With 14 of the 15 hottest years ever occurring since 2000, many scientists are in little doubt that the record-breaking string of hot years is almost certainly a sign of man-made global warming.
"What is important is that this is part of a long term trend, so 14 of the 15 hottest year on record have all been in this century. We have just had the hottest year by a big margin, we have had the hottest five years and we have had the hottest 10 years. It is part of a long term trend, there is no pause in global warming. It is continued and it is said to continue further," added Nullis.
The temperatures in 2015 were boosted further by the phenomenon called El Nino, which is a band of warm ocean water and wind that can cause increases in temperature across the world and more extreme weather.
However, Nullis says El Nino isn't solely responsible for the high temperatures in 2015.
"Some of these events were linked to El Nino, in general terms we can say that as a result of climate change, we do expect extreme events like heat waves, heavy rainfalls to increase," she said.
Much has been made of the global average temperate for 2015 going more than 1 degree C above late-19th century levels.
Last month, almost 190 nations agreed at a summit in Paris to the strongest deal yet to shift from fossil fuels towards cleaner energies such as wind and solar power to limit warming.
The UN has set a target for these cuts to hold temperature increases to well below the 2 degrees C target.
"We are already at one degree Celsius, so it really does underline the need for very concerted, very radical dramatic action to curb global warming and to curb greenhouse gas emissions," said Nullis.
The U.N. report confirms findings by NASA and the National Oceanic and Atmospheric Administration which showed that in 2015 the average temperature across global land and ocean surfaces was 0.90 C above the 20th century average, surpassing 2014's previous record by 0.16 C.
"2015 was the warmest year on record since these observations of measurements started in 1880," said NASA scientist Compton Tucker.