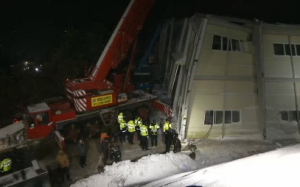 (Reuters) — Ten people attending a welcoming party for new university students were killed when a building at a South Korean mountain resort collapsed late on Monday (February 17), emergency officials said, trapping dozens in snow and rubble for several hours.
About 560 students had gathered in the auditorium of the golf resort in the mountains in the city of Gyeongju, around 375 km (235 miles) southeast of Seoul. Heavy snow had built up on the roof of the prefabricated building, causing it to collapse, fire department officials said.
"We assume that the centre of the building was unable to withstand the weight of the snow, so it collapsed. We have put the death toll at 10 so far," said South Korean firefighter Kim In-yoo.
Further investigations were underway, officials said.
Nine university students were among the dead and 23 were injured. Emergency officials said all those trapped had been rescued several hours later and the injured were receiving medical treatment.
Many South Korean university students travel out of town for university orientation programmes, often staying in camps or resorts.