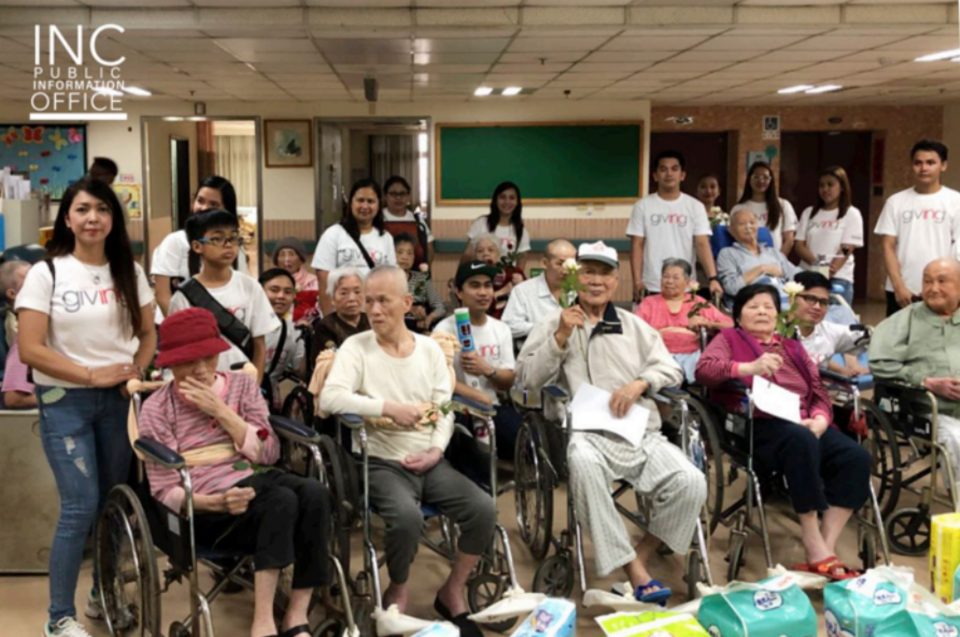 ZHUBEI, TAIWAN  – Young and old alike were gifted with visits of love from volunteers of the INC Giving Project (I-N-C Giving) over the last few weeks in Taiwan. The Project is an extension of the global commitment to community partnership by the international religious organization Iglesia Ni Cristo (INC or Church Of Christ).
In June, senior citizens and staff at the Tian Zhu Zhiao Ren Ci Home Care Center in Zhubei, Taiwan, were greeted with smiles, personal cards and basic necessities to help make them feel more like they were at home. These gestures of INC members are seen all over the world when caring for their community members by sharing their faith and the love of Christ – all through simple acts of kindness.
Leaders of the community center afterward presented a Certificate of Gratitude to honor and acknowledge the INC for their ongoing public service throughout the Country.
[ENGLISH TRANSLATION] This Certificate of Gratitude is hereby given to the IGLESIA NI CRISTO (CHURCH OF CHRIST) for the heart-warming effort in their expression of love, care and concern to the senior citizens residing in this home care institution. We also appreciate the precious time you shared to give joy and comfort to our elderly people through this remarkable endeavor.
Just weeks prior, INC Giving volunteers also visited children at the Kaohsiung Private Tzi De, or SweetHome Orphanage in Kaohsiung City, Taiwan. The children were given coloring books, snacks, and other essentials put together by the volunteers. The INC members hoped to bring joy to the children of the orphanage through this gesture, and promised that it would be one of many more days spent with them.
"We saw the need of the children here and looked for a way to help. We promised this wouldn't be the last time we would help them," said Brother Michael Alvar and Brother Ronnel Arcilla, two of the many Ministers leading the 37 local INC congregations and extensions in Taiwan.
Chairman Tsai Yi Jing and Director Su Hsu Huei of the Kaohsiung Private Tzi De Orphanage Foundation afterwards expressed their support for visits like the one from the INC, acknowledging its effort to "continue inspiring more organizations in doing charitable activities," as stated in their Certificate of Gratitude.
[ENGLISH TRANSLATION] This certificate is hereby presented to the IGLESIA NI CRISTO as a sign of appreciation for the remarkable effort in reaching out to the orphans of this institution with overwhelming compassion. This institution recognizes the wholehearted deed by your organization, its staff and members in bringing happiness to the children by caring for them as if they were your own.
The joint effort of INC members across Taiwan is one of many international campaigns of the INC's socio-civic programs aimed to strengthen the bond between the congregations of the Church Of Christ and the communities in which they serve.
Outreach projects of the INC will ramp up as the INC prepares for the year-long celebration of its 50th Anniversary in the West – July 27, 2018. Celebrating a half-century of missions beyond the Philippine borders, congregations will be honoring the milestone by continuing with and bolstering its global humanitarian presence. (Iglesia Ni Cristo Public Information Office)